Clean Material Recovery Facility
A clean material recovery facility (cMRF) is suitable for the processing of dry, mixed recyclables that have been segregated.
The recyclables can be sourced from a number of suitable collections, namely a domestic household recycling collection, a commercial dry recycling collection or recycling collected by authorities at transfer sites / civic amenity sites / drop off points. A cMRF will typically handle metals, plastic, glass, paper and card, cardboard, textiles and waxed cartons.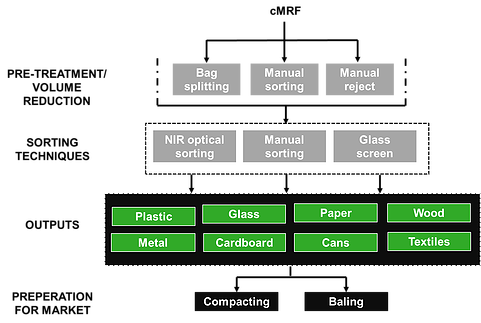 Configuration
Waste streams accepted
Mixed dry recyclable material from domestic and commercial sources
Input capacity ranges
1k-500k tonnes per annum
Typical outputs
Recyclate, aggregate, refuse derived fuel (RDF)
Purposes
Separate different recyclate streams by material and then by grade (where appropriate) to ready it for sale to re-processors and the material commodities market
Indicative capital cost
R80m as a base-price. Will increase with size
Indicative operational cost
High (depending on size)
Job creation opportunity
High
Technology restrictions
Mixing of glass and paper will reduce the output quality of both materials
Mechanical technologies required for separation of materials by grade are capital intensive
Hand sorting can be used to varying degrees within the process
Requires diligent separation of materials at source and low contamination
Main license requirements for cMRF
Advantages:
Clean MRFs can be low technology
The utilisation of manual pickers increases low skilled job creation
Community involvement is key for collection and separation at source
By-products have strong buy-back markets that will contribute to economic sector
Disadvantages:
Limited to operate on dry recyclable material that has already been segregated
Quantity and characteristics of waste, and quality assurance cannot be guaranteed
Require co-operation and support from households to separate at source
High use of water
Robinson Deep MRF, Turffontein, Johannesburg, Gauteng
The Kraaifontein Waste Management facility currently integrates refuse transfer of 1,000 tonnes per day with a semi-mechanised material recovery facility (MRF). It uses a combination of mechanical and manual technologies to sort approximately 100 tonnes per day of dry recyclables, which are separated at source and collected by the facility's operator. The aim is to divert as much waste as possible from landfill sites and to facilitate economically viable recycling.