Mechanical Heat Treatment
Mechanical Heat Treatment (MHT) facilities combine mechanical and thermal treatment techniques, often with the aim of extracting either relatively high quality recyclables and/or fuel fractions (refuse derived fuel) from the waste.
In addition, and dependent on the technology employed, they reduce the volume of the waste; derive an organic fibre for use as a raw material / substitute fuel. Heat treatment can be in the form of autoclaving (pressurised process) or thermal drying (non-pressurised process). Both are designed to sanitise and stabilise waste feedstock.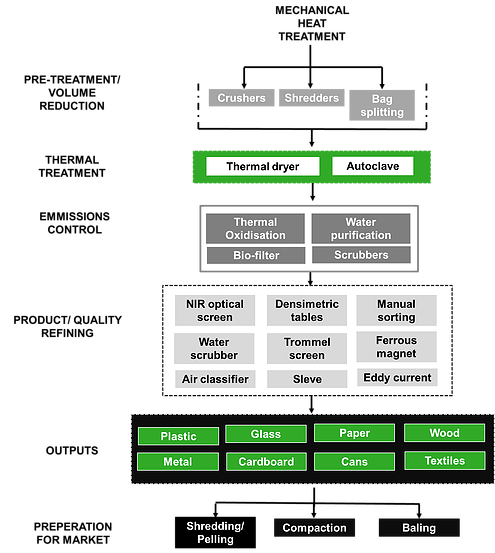 Configuration
Waste streams accepted
MSW, Commercial & Industrial waste or selected Construction & Demolition waste, Clinical/ Hazardous wastes
Input capacity ranges
50k – 500k tonnes per annum
Typical outputs
Recyclate, fines, stabilised material, Refuse derived fuel (RDF)
Purposes
Stabilise waste, producing useable recyclable and organic products in the process
Indicative capital cost
R 186m – R 542.5m for a 100k tonnes per annum facility
Indicative operational cost
High
Job creation opportunity
Low (MRF) and High (Thermal Treatment)
Technology restrictions
Not suitable for hazardous materials.
Not suitable for bulky or large waste streams.
Due to the nature of accepted waste streams will only recover mid-grade and low quantities of recyclables.
Main license requirements for MHT
Advantages:
MHT has benefits in terms of storage, transport and handling of the outputs as they are sanitised
Minimises odour problems
Significant volume reduction of the waste
Disadvantages:
The application of MHT to municipal waste has a limited track record internationally
Viability is likely to be determined by the potential markets and outlets for the fibre / fuel fractions derived from the process
AeroThermal Group Limited
AeroThermal's AAD technology consists of a front-end autoclave technology with back-end anaerobic digestion designed to significantly increase the generation of biogas from the organic fraction of waste materials. The autoclave process provides for the pre-processing of organic wastes, and the separation of recyclable materials if processing mixed residual wastes. Post-autoclave, the organic fraction of the waste has been broken down and reverted back to its original cellulose form. The lignin compound of the organic fraction then is attacked and the material cell structure is changed, so the now "hydrolysed" material is well suited to complement anaerobic digestion. A traditional anaerobic digestion arrangement is then utilised to process the hydrolysed material and generate biogas.
The autoclave itself utilises "direct steam injection" (with a steam contact time of 45 minutes) and sterilises everything within the pressure vessel, which enables processing of totally unsorted municipal wastes.
AeroThermal secured its first planning permission in 2011 for a 75,000 tonne per annum facility in Lee Moor, near Plymouth in Devon known as "AAD (South West) Ltd". The plant utilises redundant kaolin settlement tanks for the AD process and existing buildings to house a two-line autoclave arrangement with electricity fed into the national grid by utilising an existing grid connection. The resulting digestate produced from the Lee Moor facility is intended to be applied for the restoration of the china clay quarry operated by Imerys Minerals Ltd at Lee Moor.