Mechanical Biological Treatment
Mechanical biological treatment (MBT) combines both mechanical and biological treatment methods (open windrow composting, materials recycling facilities, anaerobic digestion and in-vessel composting). These are supported by a combination of pre-treatment and sorting techniques at the beginning of the process, and a selection of emissions control and quality control techniques at the end of the process.
The mechanical and biological processes can be arranged in either order, with mechanical treatment preceding biological treatment or vice versa. Typical mechanical treatments will include a range of sorting technologies, from simple sieve / trommel separation techniques through to more advanced positive selection techniques like near infrared segregation.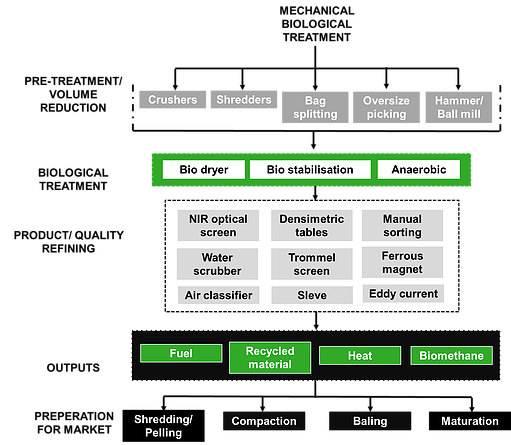 Configuration
Waste streams accepted
MSW, commercial and industrial waste, wet type
Input capacity ranges
50k-500k tonnes per annum
Typical outputs
Energy, recyclate, fines, stabilised material
Purposes
Stabilise waste, producing useable recyclable and organic products in the process
Indicative capital cost
R852,5m-R1,162,5m for a 100k tonnes per annum facility
Indicative operational cost
High
Job creation opportunity
Low
Technology restrictions
Not suitable for hazardous materials.
Not suitable for bulky or large waste streams.
Will only recover a small amount of relatively low grade recyclables.
Main license requirements for MBT
Advantages:
Conserving resources and reducing emissions harmful to the environment
Reduce volume and more rapid waste stabilisation
Stabilisation of the waste reduces side-effects at the landfill site
Hazardous waste contaminants will not reach municipal landfill sites due to the sorting of the waste prior to treatment
Disadvantages:
Potential for odour issues
A variety of occupational health and safety issues
Dry recyclables separated out during the process will be of poor quality
Demand fixed tonnages of waste
Mechanical Biological Plant in Ennigerloh, Nordrhein-Westfalen, Germany
Germany, like many countries in the developed world, has introduced stringent legislation governing the disposal of waste to landfill. Since June 2005, it has been illegal to send untreated municipal waste to landfill, and strict guidelines exist for the organic content of waste permitted for disposal.
This report looks in detail at an MBT plant in Ennigerloh, a town in Nordrhein-Westfalen in the western part of Germany. The plant comprises a mechanical separation facility that produces a refuse derived fuel product, and a biological treatment facility that produces stabilised waste suitable for landfill. The report provides background information on reasons for proceeding with the plant, an overview of the processes at both facilities, details of environmental impact, and financial data.