Anaerobic digestion is a biological process that produces a gas which is mainly composed of methane and carbon dioxide, otherwise known as biogas.
Anaerobic digestion of organic waste focuses on the biological degradation (process operates in the absence of oxygen) of biodegradable wastes by microbes under controlled conditions.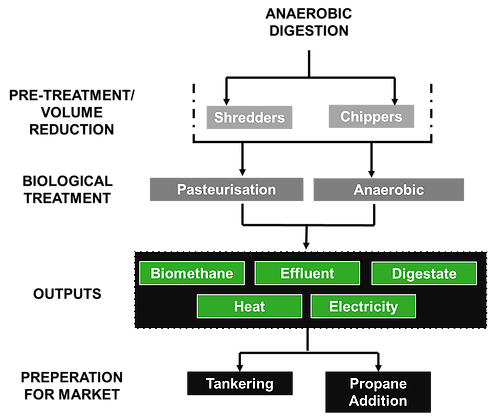 Configuration
Waste streams accepted
Putrescible / organic waste, garden / food waste collections, slurries, energy crops
Input capacity ranges
5k-150k tonnes per annum
Typical outputs
Biomethane, heat and electricity, nutrient rich digestate
Purposes
Recover biodegradable waste into a digestate for land application / soil improvement and recover energy as either gas or heat and power
Indicative capital cost
R124m-R217m for a 25k tpa wet AD process
Indicative operational cost
High
Job creation opportunity
Low
Technology restrictions
Requires an intensive monitoring and control over conditions to maintain the digestion process
Can be sensitive to imbalances in feedstock (e.g. high quantities of food versus garden waste or vice versa)
Main license requirements for AD
Advantages:
AD has potential for treating a variety of organic waste streams
Greenhouse gas and harmful gases are prevented
AD has the potential for energy production
Disadvantages:
Requires on-going management and monitoring
Health and safety issues can arise at AD plants
Significant odour issues
Quality is often insufficient for the digestate to be used as soil enhancer
City of Tshwane Metropolitan Municipality Bronkhorstpruit Biogas Project
The Bronkhorstspruit Biogas Project (BBP) is the first large scale animal waste-to-energy project in South Africa, addressing clean energy needs while resolving waste issues. It will process approximately 60,000 tons of organic waste per annum, mainly cattle manure but also chicken abattoir waste, food waste and paper sludge. Through an anaerobic digestion process, biogas will be collected and then burnt in a combined heat and power (CHP) engine to produce electricity and heat.
This development has been made possible through agreements with the City of Tshwane and Eskom for the wheeling of the power between the project developer (Bio2Watt) and the power purchaser (BMW South Africa). The City of Tshwane is now finalising a plan to divert some of its organic waste, such as food waste, from landfills to the biogas plant.
The full case study (coming soon) provides background to the project and the technology used, describes the business model and wheeling agreement, and highlights key challenges, enablers and lessons learnt.
Source: